In the digital marketing industry, not all the usual rules apply to the iGaming sector. They boom when other clients are failing and can get away with donning the SEO black hat every once in a while. However, this doesn't necessarily mean that all their tactics are underhand and shady.
Many iGaming companies pride themselves on bringing in players via promotions and events. Unique competitions, such as the GeoGuesser quiz from Europa Casino generates shareable content that can really help to promote a brand, while sport sponsorships like the recent partnership between WSOP.com and the NHL's New York Rangers aloe penetration of a larger potential demographic.
However, one brand remains firmly in our collective memories when it comes to controversial promotions: Paddy Power. To their credit, Paddy Power are experts at capturing media attention, and they don't always get it wrong.
In September of last year, the Irish bookmaker launched an innovative and simple campaign with the aim to tackle homophobia in football. In association with Stonewall, all footballers from 134 professional clubs across the UK were sent rainbow coloured shoelaces and encouraged to wear them in their games to show their support for gay players.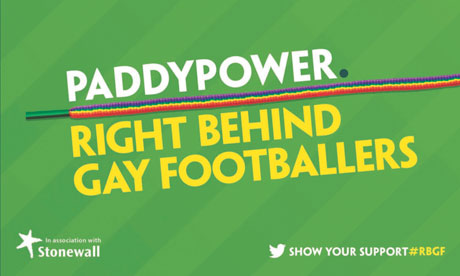 This incredibly impassioned campaign catapulted Paddy Power as a positive brand and an ambassador for this issue. As a result of the campaign and social media promotion, the company was even shortlisted for the Best Integrated Marketing Campaign in the BT Sports Industry Awards 2014.
Despite this though, there are times when the bookmaker undoubtedly gets it wrong. The most recent example of this is the banned Oscar Pistorius advertising campaign, which was branded "offensive" by the Advertising Standards Authority Ireland (ASAI).
The Paralympian was accused of murdering his girlfriend Reeva Steenkamp in February of last year. Paddy Power offered customers the opportunity to bet on the outcome of Pistorius' trial. "IT'S OSCAR TIME," stated the advert, which showed the accused's face on an Oscar statue, "MONEY BACK IF HE WALKS. WE WILL REFUND ALL LOSING BETS ON THE OSCAR PISTORIUS TRIAL IF HE IS FOUND NOT GUILTY."
The ASAI ruled to ban the advert from all media on the grounds that the Oscar statuette image "appeared to make light of murder and domestic violence" and that the money back offer "could be seen to trivialise the difficulties associated with disability including amputees or those with other mobility problems." The UK's Advertising Standards Authority reached a similar verdict.
The news of the ASAI ban comes only shortly after Paddy Power came under fire for opening betting on the next animal slaughter to occur at the Copenhagen Zoo. Following the killing of a healthy male giraffe and a family of lions at the zoo, Paddy Power were seen to be capitalising on an event that many saw as needless and tragic.
Paddy Power is hugely successful when it comes to marketing and brand awareness, but the aforementioned campaigns should come as some warning to other iGaming companies. The bookmaker is of a considerable size to mean that these negative results do not hinder their efforts too much. A smaller company, and one less associated with such 'out there' marketing techniques, could be ruined if they decided to go down a similar route. Shareability should also rank higher in your priorities than controversy.